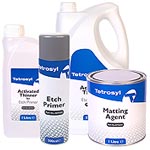 Tetrosyl has developed a 'compatible chemistry system' designed to complement aqua-t the advanced technology waterborne coating system. This complete product range provides a fully integrated crash repair programme.
Tetrosyl compliant primer range offers outstanding adhesion is fast drying and is easy to sand. The new 2K HS Primers are available in Beige, Grey, White & Charcoal in 1L & 5L for use as a primer filler or a wet on wet primer surfacer. The product offers excellent build and hold out and has an RFU VOC content of less than 540g/l.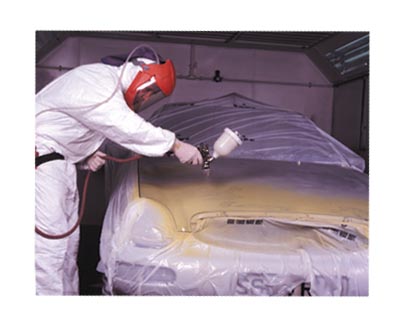 The Etch Primers are chromate free, can be used on metal substrates and offer an excellent non-sand performance. Etch Primer is also available in an aerosol format.
Also formulated to enhance the finish of the aqua-t colour system is the new Tetrosyl 2K HS Clearcoat which offers exceptional build, adhesion, durability. Available in 1L & 5L sizes, the Tetrosyl 2K HS Clearcoat has a mirror like finish, is easy to polish, requires no thinning and is a water white formula.
Tetrosyl Compliant Application Chart Issue 8, comprising of application instruction for the new HS range click here
---